Originally posted at http://www.blacksuperhero.com/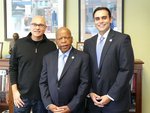 PRESS RELEASE
FOR IMMEDIATE RELEASE
February 7, 2010
Atlanta, GA – Congressman John Lewis, Andrew Aydin, and Top Shelf Productions have signed a publishing agreement. Top Shelf Productions has agreed to publish the graphic novel March, coauthored by Rep. John Lewis and Andrew Aydin, tentatively scheduled for release in 2012.
"I am very pleased to be participating in this effort," said Congressman John Lewis. "This is something I really wanted to do some years ago and there is no better time to do it than now. It is not just a story of struggle; it is a story of involvement. It shows the ups, the downs, the ins and the outs of a movement.
"It is my hope," said Congressman Lewis, "that this work will be meaningful and helpful to future generations to give many people here in America and around the world the urge, the desire, to seek, to build, their own world, their own future."
A meditation in the modern age on the distance traveled, both as a nation and as a people, since the days of Jim Crow and segregation, March tells the first hand account of John Lewis' lifelong struggle for civil and human rights.
The publishing agreement is an historic first, both for the U.S. Congress and graphic novel publishing as a whole, marking the first time a sitting Member of Congress has authored a graphic novel. Top Shelf Productions is the first and only graphic novel publisher to be certified by the House Committee on Standards.
"As a proud resident of Georgia, and a long-time fan of the honorable Congressman," adds publisher Chris Staros, "this is truly a deep honor. To bring, not only his life's story, but that of the Civil Rights Movement to the comics medium is truly exciting. This will make this historical and timeless message accessible to an entirely new generation of readers."
An artist has yet to be named for the project though candidates are being actively considered.
(more…)